March 10, 2017 in Awards
Congratulations to Genevieve Lehr – winner of the Open Season Poetry Award!!
Announcing the winners of this year's Open Season Contest!
Genevieve Lehr (poetry), "two tarantulas appear in the doorway during a thunderstorm"
Rebecca Morris (fiction), "Foreign Bodies"
Matthew Hollett (creative nonfiction), "Kiki, Out of Focus"
Congratulations to all three writers, who have each won $1,500 prize money. Keep reading for comments from the judges, and to learn more about the contest winners!
Poetry
Poetry contest judge Sina Queyras had this to say about Lehr's winning poem:
"I chose this poem because I had to keep coming back to it. Because the poem was arresting, but also resistant, not completely determined. It's also quite simple. There are clear images. Concisely rendered. There is condensed emotion. I loved the idea of the hand as spider. It has an awful truth to it. But why that kind of spider, I wondered? Why tarantula? How does that relate to the rest of the poem's location, to a mythology (and narrative) of place? I couldn't grasp that, and it bothered me, but in the end, it was the fact of the poem's resistance that made me choose it. Because I want a poem to be alive, to be in the process of becoming itself, not a thing already in the past, decoded, known, resolved. And this poem, it's paused there, on the threshold, and I can't let it—or it won't let me—go."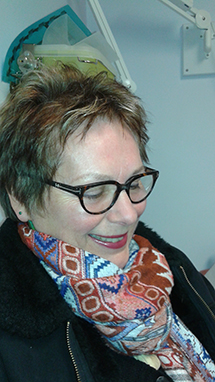 Genevieve Lehr, winner of the 2017 Open Season Award for Poetry.
Genevieve Lehr is the author of the chapbook The Design of Wings (Running the Goat Press, St. John's NL, 2004), The Sorrowing House (Brick Books, 2004), and Stomata (Brick Books, 2016). Lehr was co-winner of The Malahat Review's 2015 Long Poem Prize. She lives in Halifax.
Here is an interview with Genevieve.
For the full announcement of winners, here is a link to the full article.