Bricks of Literary Love Labour – interview with co-founder Stan Dragland and general manager Kitty Lewis of Brick Books
Amatoritsero Ede in Conversation with Kitty Lewis and Stan Dragland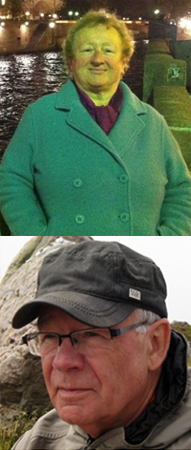 Amatoritsero Ede: We have informally collaborated a lot with Brick Books by reviewing your publications.  We can take it a step further by having a discussion around your publishing program. Brick Books' path, in the early years, intersected with that of Brick magazine. Please give us an idea of the early relationships with the journal.
Kitty Lewis: Brick Books is the only publishing company in Canada that exclusively publishes poetry.  Founded in 1975 in London, Ontario by Stan Dragland and Don McKay, the press continues its dedication to fostering interesting and compelling work by both new and established poets.  With editors scattered across the country, production, printing and distribution located in Toronto, and administration in London, Ontario, Brick Books is a unique publishing organization that works.
Stan Dragland : First, there was Applegarth Follies, a London, Ontario publishing house of the 1970s, one of whose publications was a literary magazine, Applegarth's Folly (Joshua Applegarth was the first settler in the London area; his folly, in the opinion of Folly's founders, was to leave.  If you wanted London at the centre of your life, Applegarth would be an excellent negative example.)  By its second issue, Applegarth's Folly had taken on a review editor, Stan Dragland, and incorporated a fat book review section.  It was decided to set the review section free, and Brick, a journal of reviews was born in April, 1977.  Applegarth Follies ceased to function just before Brick 2 appeared, but the journal of reviews carried on under the shared editorship of Jean McKay and Stan Dragland. Or:  first, there was Nairn publishing house, established in Ailsa Craig, Ontario in 1971. The originators of this house suspended operations in 1975, and left three books already published in the custodianship of Stan Dragland, with an open offer to make the imprint active if he wished. The first Nairn book published by S.D. was Ten Letters, a 1975 chapbook by Colleen Thibaudeau.  Other books followed, and Don McKay joined as editor and co-publisher in 1977.  Truus Dragland and Jean McKay also took on important roles in this two-family operation.  When the original publishers indicated a desire to go active again (not that this happened), it was too late for the caretakers to turn back, so a gradual detachment of identity took place.  Nairn became Brick/Nairn in 1979, and eventually Brick Books in 1981. The name of the house was drawn from the handy name of the magazine. Don and Jean McKay lived at the time on the Coldstream Road in Lobo Township just out of London.  Their house was the location of this cottage industry, so Coldstream, Ontario appeared on the title pages of Brick books for quite some time.
Brick Books continues, with expanded personnel, and so does Brick magazine, but the two entities diverged after Brick 24 (Spring, 1985), when the magazine was taken on by Linda Spalding and Michael Ondaatje in Toronto.  Under them Brick was at first still the journal of reviews, but it evolved into a fascinating literary magazine of a more general sort. Brick Books is the only publisher in Canada that exclusively publishes poetry.
A.E.: You publish only poetry. Any Brick-specific reasons?
S.D.: The focus on poetry was, at first, partly practical. In the first years, Stan and Don did almost everything. Stan typeset Ten Letters, though it was printed offset. Same with Peggy Dragisic's  From the Medley. After that, we had the typesetting done for us but still did paste-up. We couldn't see doing all that hands-on through a novel. Later, it just seemed that poetry really needed the support.
A.E.: Usually poetry's print runs are never in the thousands. How do you measure demand against supply, without running out of stock or over-stocking. Do you incorporate Print-on-Demand technology?
KL: We print 700 copies of each book with an extra 500 covers, so as to be able to reprint quickly, if necessary. We keep an eye on reports from our distributor so we don't run out of stock. Some books sell in large numbers, others do not. We have not used Print-on-Demand yet but have been researching it.
A.E.: I must note however that the quality of your publications suggest large offset printing operations with good grade of paper, and paperback. Do you engage external printers; if so, how do you decide if the external contractor suits your technical needs?
K.L.: Our printer is Sunville Printco Inc. in Toronto. They are a general printer and we have been very happy with services for over 20 years. They continue to use the paper that we like – Zephyr antique laid.
A.E.: In a highly digitalizing world, do you have any plans to go into e-books as part of your operations?
Kitty: We have been exploring the e-book world and are part of eBound Canada through the Association of Canadian Publishers – we have converted 36 titles so far and these titles have been uploaded to 5 different online vendors. We are in the process converting a further 105 titles.  We plan to have this last batch of titles converted and uploaded to various online vendors by the end of the summer. We have approached Brick Books authors for their permission to convert their books into e-books and have an agreement with each author.
A.E.: You publish seven collections a year, according to your website. How do you sustain your operations with this limited publishing activity?
K.L.: We seek out any grants possible to support our publishing program – Canada Council for the Arts, Ontario Arts Council, Ontario Media Development Corporation, Department of Canadian Heritage. We have a good track record with these agencies.
A.E.:  Would you say poetry sells in your experience? Have you ever had a bestseller in poetry terms?
K.L.: Poetry does sell – not in large quantities – but it does sell. We do everything we can to promote our books and their authors – authors travel across Canada to do readings in bookstores, cafés, restaurants and attend writers' festivals; events and news items are shared through newsletters, Facebook and Twitter; we have an active website. We also have an extensive poetry podcast archive that includes around 100 separate podcasts with our authors reading their poems – we have a YouTube channel http://www.youtube.com/brickbooks with these podcasts and many interviews and videos.  These podcasts include readings by Margaret Avison, Don McKay, Stan Dragland, Dennis Lee, A.F. Moritz, Frances Itani, Barry Dempster, Steven Price, Stephanie Bolster – and many many more authors from across Canada. We have a bestseller in A Really Good Brown Girl by Marilyn Dumont. Published in 1996, it is now in its 13th printing. This is a book by a young Metis girl about growing up in a white-dominated world. It is taught in universities and colleges in Canada and the United States. Poems from this book have been included in anthologies and textbooks. Another bestseller is Hard Light by Michael Crummey. Published in 1998 it is now in its 9th printing. In Hard Light Michael Crummey retells and reinvents his father's stories of outport Newfoundland and the Labrador fishery of a half-century ago.  Night Work: The Sawchuk Poems by Randall Maggs was another big seller for us. A hockey saga wrapping the game's story in the "intense, moody, contradictory" character of Terry Sawchuk, one of its greatest goalies. Our first printing was 2000 copies in February 2008, followed by another 2000 copies in April 2008 and a third printing of 500 copies in fall 2010.
A.E.: What do you think can be done to make poetry sell better or as well as fiction? Is it even possible?
K.L.: There is a smaller audience for poetry than there is for fiction but poetry is alive and well and thriving.
A.E.: To take a closer look at your technical side of your operations what is your publishing process like from manuscript to bound book, obvious as that might seem?
K.L.:  We receive approximately 100 manuscripts a year and read them from January 1 to April 30 every year. The final decision for manuscripts received in that time period is made by September and those manuscripts will be published 2 years later; for example, we are currently assessing manuscripts for publication in 2014. The author and editor work together on the manuscript. It then goes to the production team – this team proofreads and copy-edits the book, an external person reads it through one last time, the team collaborates with the designer on the cover design, prepares bibliographic data, catalogue copy and marketing sheets to present to the sales reps. The production team and the author check the galleys and send the files to the printer. Bookmarks and postcards are prepared at the same time as the printing of the book.
A.E.: Thank you for taking the time off your busy schedule to talk to MTLS.
Kitty Lewis has been the General Manager of Brick Books (1975), a literary press which publishes poetry by new and established authors, for over 20 years.
Stan Dragland is originally from Alberta and now lives in St. John's, Newfoundland. He is Professor Emeritus, Department of English, The University of Western Ontario. He was founder of Brick magazine and Brick Books, and is still active with the latter. Peckertracks (1979) was shortlisted for the Books in Canada First Novel Award; Floating Voice: Duncan Campbell Scott and the Literature of Treaty 9 (1994) won the Gabrielle Roy Prize for Canadian literary criticism: 12 Bars (2002) was co-winner of the bp Nichol Chapbook Award; Apocrypha: Further Journeys (2003) won the Newfoundland and Labrador Rogers Cable Award for non-fiction; Stormy Weather: Foursomes (2005) was shortlisted for the E.J. Pratt Poetry Award. SD has also published Journeys Through Bookland and other Passages (1984) and The Bees of the Invisible: Essays in Contemporary English Canadian Writing (1991). His latest book (2008) is The Drowned Lands, a novel. 
Tagged: Amatoritsero Ede, brick books, Kitty Lewis, Maple Tree Literary Supplement, Stan Dragland